(20 ratings)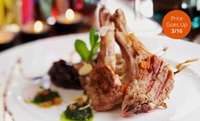 Portobello Cafe
(718) 356-2233
4221 Hylan Blvd.
Staten Island, NY 10309 |
MAP
$40.00 Gift Certificate
Your Price: $19.00
$40.00 Gift Certificate
Your Price: $20.00
terms and conditions
Features
Italian
,
Casual/Family
,
Banquet/Party Room
,
Bar
,
Catering
,
Children's Menu
,
Delivery
,
Kids Friendly
,
Romantic
,
Take Out/Carry Out
,
TV/Satellite
,
Wheelchair Access
,
Dinner
,
Lunch
(
Italian Food & Culture History
)
UPDATE THIS LISTING
Portobello Cafe Reviews
Avg Rating:
Number of Reviews: 20
A diner from
Staten Island, NY
gave an overall rating of
on March 24, 2011 @ 11:10 PM
Let me start by saying that for years I felt this was a wonderful restaurant, the food is well prepared, hearty portions, and the ambience is casually elegant. However, there are so many rules & regulations governing the midweek special pricing, they now have a full page printout detailing them. And you better ask to see it before you're seated, or you may have an issue or two!

I have been witness to several incidents where patrons are up in arms about one thing or another, related to this. It clearly spoils the evening for them, and for me as well, each time I have to sit through another "debate" between patron and wait person.

It was explained to me that some patrons had begun to take unfair advantage of the special pricing, ordering adult meals (at 1/2 price) for toddler children, then wrapping them to go - and I can understand why this would be frowned upon. But I myself have been there to have dinner, (3 adults at our table) - and I was FORCED to order a full dinner even though I usually just pick on an appetizer due to a restricted diet and simply not desiring a full restaurant meal. I was told I could not share, which is fine. But that I also could not order just an appetizer as my meal. Let me repeat I was FORCED to order a full entree, at full price, even though I wasn't hungry enough to want one. Yes we could have just left, but it was awkward, so we stayed.

The other 2 people I brought there were aghast as was I. And during our meal we watched at least 2 other tables voice their disdain (loudly) over some of the many rules which aren't posted or disclosed until AFTER you have begun your meal. What a dark cloud something like this casts on an otherwise lovely dining experience. It's perplexing, and hurts their reputation for sure.

The lesson here: ASK to SEE the midweek rules BEFORE you order.
A diner from
staten island
gave an overall rating of
on November 12, 2010 @ 10:32 PM
the food portion is getting smaller,from the salad for two,to dinner the buy 1 get 1.even the glass of wine is small for the price
A diner [robertseawolf@verizon.net] from
Eltingville,Staten Island
gave an overall rating of
on September 5, 2010 @ 11:44 AM
My wife and I have been eating here since Adam opened.The food is usually very good but as any other places can have an off night. We eat here at least twice a month the prices on the 2 for 1 can't be beat.The only problem that we have is the price of drinks is never the same prices depend on the bar tender. we always have a pitcher of Sangria (which is great by the way) but it can cost anywhere from $18.95 to $24.95 it't just a little annoying. I don't complain since the food value is so great and where else can 2 people get a great meal with drinks for under $50.00.
A diner from
New Dorp, Staten Island
gave an overall rating of
on January 22, 2010 @ 1:59 PM
I am thoroughly surprised to read all of these poor reviews! I have been going to this restaurant for years with my family and last night we went again, but this time (for the first time in her life) my daughter, who is almost 4 yrs old, ate a meal prepared by someone other than my family. She has such severe food allergies to SO many things that we have always been afraid for her safety to let her eat at a restaurant. I called ahead and spoke with the owner (who is wonderful!) and he specifically made something she could eat, being ever so careful to avoid all foods she is allergic to. The waiter and staff took extra care to make sure we were OK and the food was great! We will be surely going back and I highly recommend this restaurant to anyone, especially if you have special dietary needs!
A diner from
staten island
gave an overall rating of
on October 9, 2009 @ 5:41 AM
By far one of the most rudest and obnoxious experiences ive ever dealt with in my life, First lets start with the positive big portions and a good value, But lets think about that how can all this food be so cheap quality sub par i dont even think my veal was veal, tasted more like pork if you ask me. Now to state the bad, my family and i were seated near the rear of the rest and in the middle of the dinner rush we heard screaming and banging like someone was committing a murder, we heard curse word after curse word, One of the waiters had told us it was the owner berating the staff, shortly after the abusive launguage staff emerged like scurrying rats running around the dining room. In all my years I've never seen or heard anything so unprofessional, I will never go there again nor will I tell anyone to go there.
A diner from
South East Annandale
gave an overall rating of
on September 24, 2009 @ 1:23 PM
My family and I ate their last night. What a pleasant experience. The value on the 2 for 1 is great and the food and service outstanding. It's nice to see a place packed on a week night. Obviously they know what they are doing they are around a long time. Please keep it up.
A diner from
staten island
gave an overall rating of
on May 7, 2009 @ 9:20 AM
We ate there last week. 2 for 1 cash special.
Service was very good, but a glass of seltzer was $2.50 with NO refills.

The salad was terrible and the pasta tasted like sheetrock. It's a shame the city doesn't close it.
A diner from
new jersey
gave an overall rating of
on February 18, 2009 @ 2:07 PM
I was at a party this weekend the food was great had penne vodka, stuffed pork chop, eggplant rollatini and everything was great.........
A diner from
STATEN ISLAND, NY
gave an overall rating of
on January 24, 2009 @ 8:54 PM
DINING AT PORTOBELLO WAS A MONTHLY RITUAL FOR MY FRIENDS AND I FOR THE PAST FEW YEARS. THE QUALITY OF FOOD HAS DETERIORATED. THE 'DA BEST CHICKEN PARM' WAS HORRIBLE. THE MANAGEMENT LOUDLY AND PUBLICALLY BERATED A WAITER ON THE OPEN FLOOR UPSETTING MANY PATRONS. ALSO ON ANOTHER OCCASSION, DURING A 2 FOR 1 CASH SPECIAL NIGHT - THE WAITER REFUSED MY CASH AND TOOK MY BROTHER'S CREDIT CARD AND CHARGED HIM FULL MENUE PRICE. UPON SPEAKING WITH THE OWNER REGARDING THE WAITERS ACTION - THE OWNER LOUDLY AND PUBLICLY EMBARRASSED ME FOR CHALLENGING THE WAITERS ACTIONS. PORTOBELLO HAS LOST MANY LOYAL CUSTOMERS DUE TO THE DECLINE IN THE QUALITY OF THEIR FOOD AND THEIR TREATMENT OF THEIR STAFF AND MOST OF ALL THEIR (FORMER) CUSTOMERS. MAYBE GORDON RAMSEY CAN GIVE THE OWNER AND OVERHAUL IN COURTESY, MANNERS AND FOOD QUALITY.
A diner from
si ny 10308
gave an overall rating of
on October 6, 2008 @ 9:19 PM
What a horrible expierience, my family and I were dining and while we were eating, seated near the entrance to the kitchen we overheard screaming and yelling. The profanity was absurd we later learned that it was the owner Ive never been so turned off to a place in my life. A bunch of Kids running around like Chickens with out heads there very unprofessional we will never dine there again
A diner from
NY
gave an overall rating of
on June 12, 2008 @ 12:42 AM
Traditional Italian dishes are absolutely delicious, but try to stay away from the asian inspired dishes, usually comes with some type of heavy sweet sauce. Service is average. Bartendars aren't very friendly but overall a good neighborhood restaurant.
A diner from
Great Kills, Staten Island, N.Y.
gave an overall rating of
on February 28, 2008 @ 1:10 PM
FOUR OF US ATE THERE LAST WEEK. TWO OF US HAD THE MUSSELS, CLAMS AND SHRIMP OVER ANGEL HAIR IN A LIGHT TOMATO SAUCE. IT WAS OUTSTANDING.
THE SERVICE WAS EXCELLENT. THE SALAD WAS WONDERFUL.
AND IT WAS TWO FOR ONE, TO TOP IT OFF. I LOVE THIS PLACE. I'M GOING TONIGHT FOR DINNER AND TOMORROW FOR LUNCH. BRAVO!
A diner from
staten island, ny
said... on November 9, 2007 @ 12:47 PM
obviously the last rater was competition from another local restaurnat. Portobello is excellent. Try for yourself. Go on a 2 for 1 so you don't spend that much to find out. You will love it.
A diner from
Staten Island, NY
gave an overall rating of
on November 4, 2007 @ 7:51 AM
Went Saturday evening 11/3/07. The appetizer was excellent. The main courses were terrible. I ordered the stuffed pork chop, it was brought out burnt to crisp. I sent it back and the replacement had no flavor. There is no chef in this kitchen, only line cooks. My wife's fish, a special, was drowned in a sweet sauce making it inedible.It was served over hard, tough stemmed broccoli rabbe it was vile. I see that they have 2 for 1 during midweek but it is not worth it. This place needs Gordon Ramsey. It has an extensive menu that does many things but none of them well. Stay away!
A diner from
staten island
gave an overall rating of
on November 2, 2007 @ 2:53 PM
loved the appetizer stuffed figs with blue cheese -yummy!!!! we split the entree of shrimp fra diavolo also delicous!!! really had a great time, my husband called ahead and they had a mini birthday cake for me. the wait staff was very attentive,couldn't ask for a better dining experience!!!5 stars all the way! -Terri
A diner from
Staten Island, N.Y
gave an overall rating of
on April 26, 2007 @ 1:02 AM
We went with a party of nine people and everyone
raved about the food, The food was not only delicious but plentyful and reasonable.
A diner [Frankiee1966@aol.com] from
Staten Island, NY
said... on February 13, 2007 @ 10:38 AM
Have been a loyal customer for years and the new look of the place blows me away...Not only does it look great the new dinner menu cant be beat....As the Chef would say Da Best!!!!!
A diner from
staten island, ny
gave an overall rating of
on August 15, 2006 @ 1:50 PM
This place only keeps getting better....the house pasta is the best there is...portions are a good size and menu has a large selections...always a problem ordering from the delious appetizers
A diner from
new york new york
said... on February 26, 2006 @ 9:33 PM
yuck
A diner [Popize@aol.com] from
Staten Island, NY
gave an overall rating of
on April 12, 2005 @ 7:47 PM
Excellent food!!!!! Prices are great!!!! Tuesday and Wednesday dinner specials two for one. Cash only for specials, no credit cards!!!
Calamari Fra Diavolo over linguini with Caeser salad, bread lots more, tip and all for 2, $25!!!!!
» Read More:
Staten Island Restaurant Reviews
---