(8 ratings)
Elmer's Breakfast-Lunch-Dinner
(503) 665-5144
1590 Northeast Burnside Road, Gresham, OR 97030 |
MAP
UPDATE THIS LISTING
Recent Elmer's Breakfast-Lunch-Dinner Reviews
A diner
from
Gresham, OR
gave an overall rating of
on February 5, 2011 @ 4:37 PM
I've eaten at this Elmer's location dozens of times and the only problem I've ever had was a new waitress there got our order wrong. Other than that, the staff is friendly and the food is good and well priced.
A diner
from
Damascus, OR
gave an overall rating of
on April 10, 2010 @ 7:31 PM
The Elmer's in Gresham always has delicious food and nice wait staff.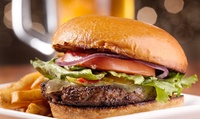 Inn Between
Steak House Restaurant in
Welches
Essence Of China
Chinese, Steak House, Casual/Family, Delivery Restaurant in
West Linn
advertisements
Reviews of Similar Restaurants
» Read More:
Gresham Restaurant Reviews
---