---
50% Off Dining Certificates at these locations...
Indian, Indian/Pakistan, Banquet/Party Room, Catering Restaurant in
Kirkland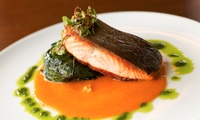 New American Restaurant in
Kirkland
---
Avg Rating:
Number of Reviews: 1
Read More
Kirkland Restaurant Reviews
Kavkaz Kebab Map
Sorry, we were unable to location this restaurant on the map.
$15 Gift Certificate
Your Price: $6
TERMS AND CONDITIONS:
Minimum purchase of $30 at restaurant. Dine In Only. Not valid for Friday, Saturday and Sunday. Not valid for lunch.