---
50% Off Dining Certificates at these locations...
Deli/Sandwich/Subs Restaurant in
Northridge
Californian, Juice Bar & Smoothie Shop, Ethnic Setting, Casual/Family Restaurant in
Reseda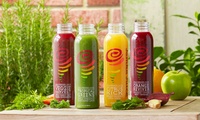 Juice Bar & Smoothie Shop Restaurant in
Alhambra
---
$32.94 Gift Certificate
Your Price: $18.99
TERMS AND CONDITIONS:
Limit 1 per person. Limit 1 per visit. Must use promotion value in 1 visit. Not valid with any other offers or towards specials. Valid only for 6 Cold Pressed Juice bottles (12 oz. each). No substitutions. Valid only at listed Southern California locations. Purchase or redemption of voucher will not count towards Jamba Insider Rewards points.