(2 ratings)
Elizabeth's Pizza
(336) 292-2425
Wendover Place, Greensboro, NC 27401 |
MAP
UPDATE THIS LISTING
Recent Elizabeth's Pizza Reviews
A diner
from
Greensboro, NC
gave an overall rating of
on November 10, 2012 @ 1:06 AM
It's always a pleasure to dine at Elizabeth's Pizza on Wendover Avenue. Very friendly and exceptional wait staff. Food always great and if there is a problem, they are more than willing to fix it. Love it!!!
A diner
from
Greensboro, NC
gave an overall rating of
on March 30, 2004 @ 11:56 AM
Being an italian native, brick oven pizza has always been a staple. Elizabeth's off of Wendover has the absolute best brick oven pizza I have tasted in Greensboro to date. Staff is polite and the native neopolitans are always a pleasure and willing to exchange some conversation. They take the extra time to always ask "how was the pizza?". The atmosphere leaves a bit to be desired...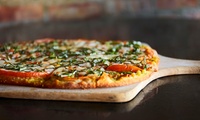 Mario's Pizza
Italian, Pizzeria, Casual/Family, Kids Friendly
Vito's Italian Restaurant
Italian, Italian (Traditional), Pizzeria, Pasta
advertisements
Reviews of Similar Restaurants
» Read More:
Greensboro Restaurant Reviews
---