(4 ratings)
Asiatique Restaurant
(502) 451-2749
UPDATE THIS LISTING
Restaurant Description
east meets west, but refined, reworked and extended to include everything in between...

Award-winning Asiatique is located in the heart of St Matthews in Louisville, Kentucky. It has been a dining destination for the past six year.

Among the awards
Recent Asiatique Restaurant Reviews
A diner
from
Nashville, TN
gave an overall rating of
on September 11, 2009 @ 3:48 PM
Asiatique is a wonderful experience of the taste, smell and visual presentation. We are from out of town and wanted a restaurant that was a symbol of the kind of cuisine we might find in Louisville. We had no prior knowledge of the restaurant.

We were not disappointed. Our group of five each of the three five course meals offered - a medley, a seafood and a vegetarian version. Then we shared. The $45 price tag ($60 with a variety of wines) was a value.

The food was a blend of beautifully prepared cuisine, matched with a unique blend of spices that complimented each item and provided stimulating surprises to our palates. By the 4th course we couldn't contain our pleasure and could hardly find room for the finale (dessert)... but we did. The servers were also knowledgeable and attentive and even made sure the chef created special substitutes for one our party that had a specific food allergy.

I would highly recommend Asiatique to anyone.
A diner
[
[email protected]
] from
louisville, ky
gave an overall rating of
on March 22, 2009 @ 12:34 AM
The environment is friendly and inviting. If you're lucky you might catch a party. The food is amazing. Good for any person.
Our Content Partner [
Robin Garr
] from LouisvilleHotBytes.com gave an overall rating of
on September 1, 2001 @ 12:00 AM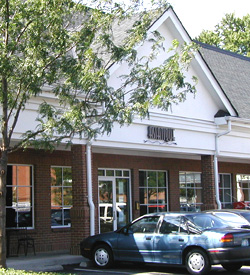 Take a small globe and turn it in your hands, gently, spinning it around the Equator until you're looking down on the South Pacific. There! Gaze down on Polynesia, perhaps Christmas Island, about as far on Earth as you can get from the mainland.

Looking at the world from this perspective, you will see almost nothing but water, with only the edges of a few continental masses peeking around the edge: Australia, the Phillipines, a glimpse of China, then Japan; on the other side, Alaska, the Pacific Northwest, California, then Mexico (and beyond it, the Gulf and the Caribbean) and on down South America's high Andean coast.

You've defined the Pacific Rim, that volcanic ring of nations and diverse cultures that, taken together, form one of the most trendy cuisines around in the early '00s.

And in Louisville, there's no better way to define the Pacific Rim than Asiatique, a favorite spot that's currently on top of its form as one of the finest dining rooms in town.

A visiting friend from California noted that an eclectic restaurant of this style might not garner unusual notice in the Golden State; but it's a rare thing out here in the Heartland, and Asiatique's chefs Peng Looi and Tuan Phan place their individual stamp on a cornucopia of adventurous dishes all their own.

Even the look of the dining room is Pacific Rim-trendy: Its shopping center space is spare, almost austere, with hard edges that amplify the happy noise of diners having a good time. Blonde wood and pale sky blue colors make a happy change from the dark purple tones that defined Asiatique before a major redecoration last winter. Not-quite-rectangular frosted glass windows and waist-high dividers separate the dining room from the bar and break the largish room into more intimate divisions, one with a long banquette across the front window wall. Pale-blue and gold side side chairs are more comfortable than they look with their style that blends a little art deco and a little Japanese. Undraped black tables are set with simple white stoneware and tall glasses; a votive candle flickers on every table.

The menu, which changes frequently with the seasons (and is shown in detail on Asiatique's informative Website), currently features a dozen starters in the $7.50 to $8 range, featuring such goodies as a sushi assortment; a char-grilled balsamic portobello with strawberry-garlic sauce; shrimp gyoza (Japanese potstickers) with wok-sauteed cabbage and spiced shiitake vinaigrette; lumpia (the delicately crispy Filipino egg roll); and a smoked-salmon quesadilla with the lovable geographical marriage of Indiana goat cheese and Asian salsa. Asiatique's organic mixed-green salad is $5; a bowl of the soup of the day is $4.50.

About a dozen entrees are divided by preparation: The Wok, and the Grill. They range from $15 (for seasonal vegetables with rosemary-balsamic vinaigrette and fresh pasta) to $21 (for lemongrass-scented Angus New York strip, sauteed grilled vegetables, baby spinach and rosemary-balsamic vinaigrette or a dinner of herb-crusted New Zealand spring lamb chops, grilled vegetables and Thai cucumber salad with a citrus reduction sauce).

The wine list is not overly long, but it's well chosen and fairly priced, with about 50 mostly American wines generally marked up a little below double retail; many of them are available by the glass. Avoid the handful of pricey and immature Bordeaux, which are there to impress uncritical high-rollers; you'll find plenty of good choices in the $18 to $65 range ($4.50 to $7.50 for a glass), plus a trio of sakes if you want to maintain the Asian theme.

If you're feeling adventurous, Asiatique offers an intriguing option: Forget the printed menus and trust the chefs to entertain you with a "degustation menu," offering a five-course dinner of dishes put together at the kitchen's whim (subject to your wishes if you express a special interest or personal food taboo). They're $45 for the standard selection, $40 for an all-vegetarian dinner or $55 for an all-seafood selection. Add a wine selection (kitc
advertisements
Reviews of Similar Restaurants
Asian, Vietnamese, Barbecue
The food is what really matters here. Wedged in a strip mall that hasn't seen a renovation in probably 30 years, the dining area is as simple as it gets. The basic surroundings belie a little secret - this is the best Vietnamese food you'll ever eat. ...
» Read More:
Louisville Restaurant Reviews
---