(1 ratings)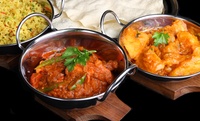 Taj Palace Indian Restaurant
(502) 423-9692
Features
Indian
,
Bar
,
Children's Menu
,
Kids Friendly
,
Outdoor Seating
,
Romantic
,
Smoking/Non Smoking
,
Take Out/Carry Out
,
TV/Satellite
,
Wheelchair Access
,
Wi-Fi/Internet Access
,
Dinner
,
Lunch
UPDATE THIS LISTING
Recent Taj Palace Indian Restaurant Reviews
A diner
from
St. Louis
gave an overall rating of
on January 2, 2011 @ 3:17 PM
Taj Palace is always a "must have" meal on each visit to Louisville.
The food is carefully prepared, delicious and beautiful to look at as it is delicious to eat. Their lunch buffet has a wide variety of
dishes. Carnivores and vegetarians will all find a broad selection
of delicious dishes and their prices are very reasonable. Owners are always on hand to make sure everyone enjoys their dining experience and their staff is friendly, professional and attentive.

HIGHLY recommended by these St. Louis fans.

It's one of the rainbows at the end of our 4+ hour drive.
advertisements
Reviews of Similar Restaurants
» Read More:
Louisville Restaurant Reviews
---