---
50% Off Dining Certificates at these locations...
Indian, Indian/Pakistan, Pakistani, Vegetarian Restaurant in
Seattle
Mediterranean, Middle Eastern, Casual/Family, Bar Restaurant in
Kirkland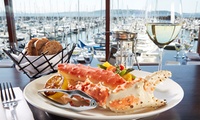 Waterfront Restaurant in
Seattle
---
Reviews of Similar Restaurants
Read More: Auburn Restaurant Reviews
$10 Gift Certificate
Your Price: $4
TERMS AND CONDITIONS:
Minimum purchase of $20 at restaurant, Mon-Thurs. Minimum purchase of $30 on Fri-Sun. Dine In Only. Tax and gratuity not included. Not valid for alcohol.