---
50% Off Dining Certificates at these locations...
Mediterranean, Seafood, Raw Bar, Banquet/Party Room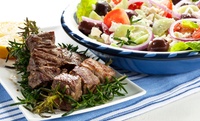 Greek, Mediterranean, Organic, Casual/Family
Mediterranean, Middle Eastern, Casual/Family, Coffee Shop
---
Reviews of Similar Restaurants
Read More: Chicago Restaurant Reviews
$15 Gift Certificate
Your Price: $6
TERMS AND CONDITIONS:
Minimum purchase of $30 at restaurant. Excludes Delivery. Valid before 6:00 PM only.