---
50% Off Dining Certificates at these locations...
Barbecue, Pizzeria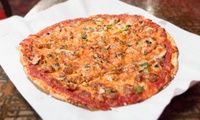 Italian, Pizzeria, Fast Food
Pizzeria
---
Reviews of Similar Restaurants
Read More: Chicago Restaurant Reviews
Andiamo Woodfire Pizzaria Map
$10 Gift Certificate
Your Price: $4
TERMS AND CONDITIONS:
Special Term(s): Minimum purchase of $30 at restaurant. Dine In Only. Not valid for Friday, Saturday and Sunday. Valid for lunch only.