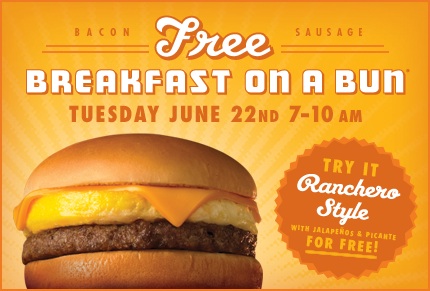 Stop by Whataburger on June 22, 2010 from 7-10 am and pick up a free bacon or sausage Breakfast on a Bun. And if you're looking for a way to spice up your morning, try it Ranchero Style with jalapenos and picante sauce for free too!  Whataburger believes in giving back to the communities that they call home. Whataburger Serves is a long-term initiative designed to share the Whataburger spirit of selfless service with customers, employees and the community. That means serving the best burgers, serving their customers with an extra smile and serving their communities through Charitable Giving and Sponsorships.
Click here to find the closest Whataburger location near you!
2 responses to "Free Whataburger Breakfast on a Bun!"
JEFFERY BRANCH Says:
Dec 20, 2010 at 9:20 PM I'm glad you wrote about this! Bing after searching for info on this for what seems like hours. I'll definitely check back often for updates, keep up the great work!
teaching quality Says:
Jan 13, 2011 at 11:45 AM You are very smart. I will come back again.